Goddess is everywhere, above, below and within...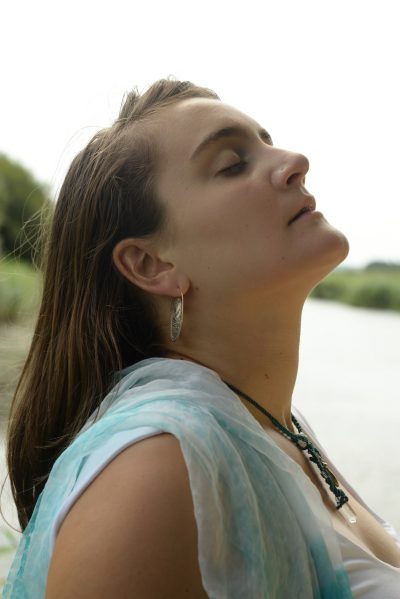 My joy and passion is to spread the love of Goddess into the world and to reconnect our wild, soulful selves, through the resonance of the human voice.
I grew up in London, in a musical family, where I received classical vocal training. Over the years I have toured the world in the classical choir scene (with the National Youth Choir of Great Britain) and in the jazz a cappella world (as part of the Oxford Gargoyles). As my musical and spiritual journey deepened, I discovered the world of folk music and devotional singing. I was called to dedicate my life to the Goddess as Her Priestess and in 2018 I moved to Glastonbury, my soul home, where I now live and work, creating devotional music for the Lady of Avalon, Great Goddess of this sacred land. 
Within the Glastonbury Goddess Temple, I am a Goddess Temple sounder, offering Goddess-centred workshops exploring the healing resonance of the voice and sacred sound. 
I am a dedicated Priestess of Goddess, and am currently in the third spiral of the Priestess of Avalon training with the Glastonbury Goddess Temple, journeying with the Lady of Avalon, Nolava, Great Goddess of the Sacred Land.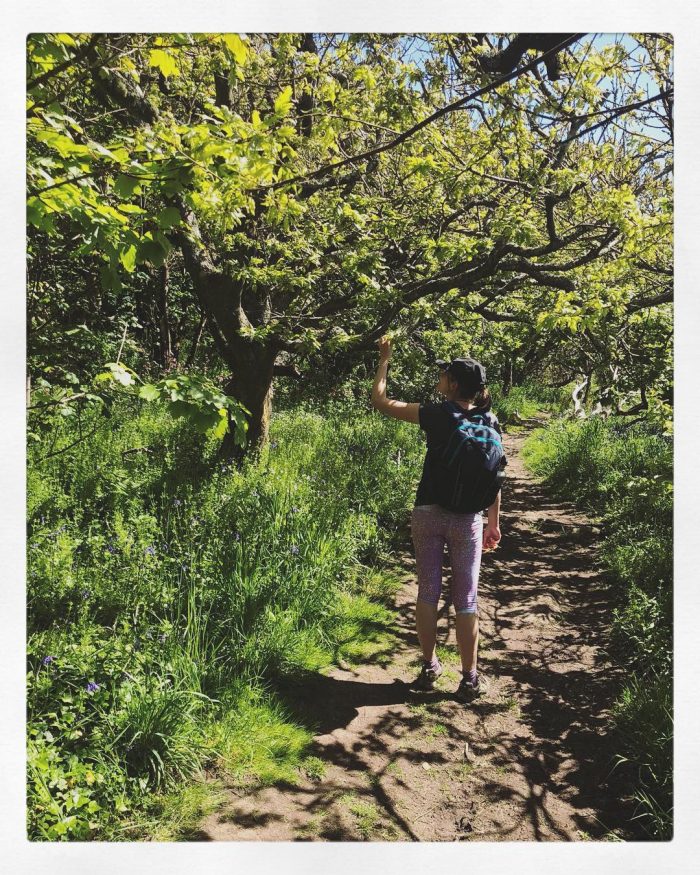 Learning to hear my voice through the trees, and hearing the trees through my voice...
Since a very young age I have been fascinated with the magic of trees. It was my work with trees that brought me to Goddess and my music is inspired by the beauty of nature in all of Her wildness.
I graduated with a First Class degree in Biological Sciences from the University of Oxford in 2013. I am now in the final year of my PhD in Forest Ecology in the Department of Plant Sciences, Oxford. I am particularly interested in the ecology of tree disease and tree-insect-fungal interactions.
Both a scientific and spiritual experience, my work with trees has opened up new levels of sensory awareness, as I have the privilege to to interact with non-human sentient beings every day. Achieving these wider, altered states of perception also comes through in my sound work, as I work with the different levels of vibration of the voice.
Academic Publications (to date):
Field, E., Castagneyrol, B., Gibbs, M., Jactel, H., Barsoum, N., Schönrogge, K., & Hector, A. (2020). Associational resistance to both insect and pathogen damage in mixed forests is modulated by tree neighbour identity and drought. Journal of Ecology 108: 1511–1522
Field, E., Schönrogge, K., Barsoum, N., Hector, A., & Gibbs, M. (2019). Individual tree traits shape insect and disease damage on oak in a climate‐matching tree diversity experiment. Ecology and Evolution 9 (15): 8524–8540. Read the full text here.
Bebber, D., Field, E., Mortimer, P., Heng, G., Holmes, T. & Gurr, S. (2019). Many unreported crop pests and pathogens are probably already present. Global Change Biology 25: 2703–2713. Read the full text here.
Westhoek, A, Field, E., Rehling, F., Mulley, G., Webb, I., Poole, P. and Turnbull, L. (2017). Policing the Legume-Rhizobium Symbiosis: A Critical Test of Partner Choice. Nature Scientific Reports 7 (1): 1419. Read the full text here.